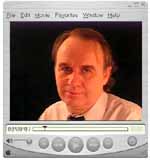 William F. (Bill) Jolitz, founder and executive of many Silicon Valley start-ups and large technology companies, has has been named the new CEO of ExecProducer.
According to the company's press announcement, "William is a highly experienced executive in the technology services sector and will bring valuable insight and knowledge to ExecProducer. His record of focusing, energizing and growing technology companies is outstanding. We are very pleased to have an executive of William's caliber join our company."
ExecProducer is the leading worldwide provider of realtime production services for Internet and cellular multimedia. The company's offerings include automated preproduction, production, and deployment of Internet media offerings, media tracking and metrics for Internet commercial tuning and analysis, and cellular, Internet and WiFi end-to-end multimedia content management.
"I look forward to joining the ExecProducer team," commented Mr. Jolitz. "The company is one of the world's foremost providers of technical and business multimedia and realtime production. ExecProducer has many strengths and unlimited potential. As company-wide challenges and goals are met by the team, ExecProducer will become an even stronger presence in the Internet and cellular multimedia production industry."